Progressive Video Poker
SupaJax - SupaJax is a Jacks or Better video poker game connected to multiple casinos. SupaJax accumulates deposits from it's players at all participating casinos and creates giant jackpots. The game SupaJax is a video poker game that is based on the Jacks or Better payout schedule. The draw to this video poker game is the progressive jackpot that constantly accumulates money that can be won if you play for five coins and your hand contains four (4) Jacks and the SupaJax card. The progressive jackpot continues to accumulate until one of the players draws the winning hand. Otherwise, you receive the normal Jacks or Better payouts. The draw to this type of game is the very large amounts
that can be won!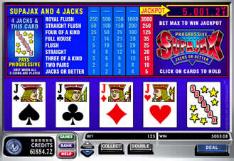 Click here to play SupaJax Progressive Video Poker at Platinum Play's Poker
Jackpot Deuces - This video poker game is similar to the Deuces Wild payout schedule and like other progressive games, it is constantly accumulating money that can be won if you play for five coins and you draw a Royal Diamond Flush! This would include the Ace, King, Queen, Jack and Ten of diamonds.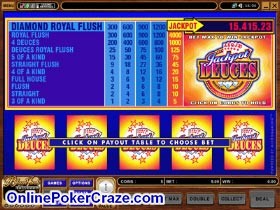 Click on banner to play Jackpot Deuces Progressive Video Poker at 7 Sultans Casino.
MegaJacks - MegaJacks is a $0.25 progressive video poker game. This game is played exactly like the standard Jacks or Better video poker game, with the exception of the progressive jackpot. In order to win the jackpot, you must get a Royal Flush while playing for Max Bet. Since the maximum bet is 5 coins of $0.25 (equals $1.25) this makes MegaJacks one of the cheapest progressive jackpot games to play. A double-up feature is included with this popular video poker game.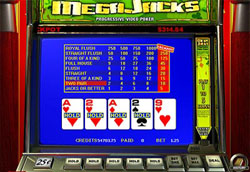 Click here to play MegaJacks Progressive Video Poker at Vegas Palms Poker